The Verandah Restaurant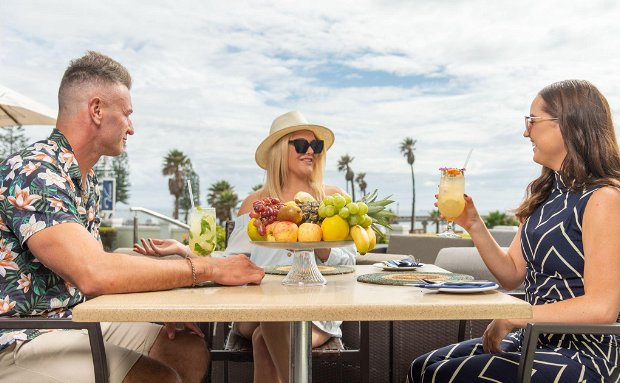 The Verandah Restaurant is adjacent to Port Elizabeth's popular Hobie Beach. Its incredible views of the ocean, stylish décor and delectable menu make this the perfect choice for a relaxed mealtime. With an array of dishes on offer, including an extensive cocktail menu, where there is something for everyone.Bookings are essential, contact us on: 041 583 2161 or info@thebeachhotel.co.za
Operating Hours 7AM-10:00PM
Spring Into Summer
Introducing our fresh and vibrant Spring into Summer menu! Embrace the changing seasons with a burst of flavors that perfectly transition you from the cold of Winter to the warmth of Spring. Delight in a symphony of seasonal ingredients crafted into exquisite dishes that capture the essence of this beautiful time of year. 
Date Night
Our ever-popular Date Nights, every Wednesday, are the perfect way to relax and unwind.
Bookings are essential and can be made by contacting us at 041 583 2161 or info@thebeachhotel.co.za
Purchase a Voucher
Spoil a loved one with a voucher at the Verhandah.
Breakfast Club Loyalty Card

Make use of our Breakfast Club loyalty card. With this card, you'll receive:
Free cappuccino for 1 on your 5th visit
Free Flapjack Stack for 1 on your 10th visit
Free Cocktail for 1 on your 15th visit
Free Tea by The Sea for 1 on your 20th visit
Free Snack Platter for 1 on your 25th visit